All-on-Four/Teeth in a Day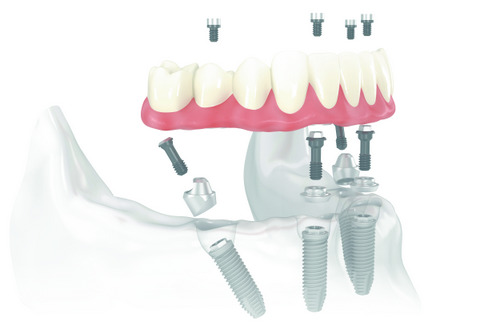 All-on-Four or Teeth in a Day refers to a type of implant dentures known as "hybrid dentures."

Hybrid dentures resemble a full-arch bridge of teeth which are affixed to and supported by four implants in your jaw.


Benefits of Hybrid Dentures
| | |
| --- | --- |
| • | Unlike traditional dentures, hybrid dentures are screwed down into your implants and are fixed firmly to your jaw – appearing and functioning like natural teeth. Denture adhesives are not needed. |
| • | Upper and lower hybrid dentures can be done with 4-6 implants per jaw, and the upper hybrid prosthesis does not cover the roof of your mouth. |
| • | With hybrid dentures, the strength of your bite is greatly improved compared to other denture options, and you are able to eat and drink as you please without worrying about your prostheses loosening. |
| • | You can brush and floss your hybrid dentures inside your mouth, just like you would with natural teeth. |
Procedure for Hybrid Dentures

Just as with any type of dental implant, your dentist and periodontist will work together to plan your case digitally. Implants for hybrid denture can be placed with the use of local anesthetic. Because it is a more involved procedure, sedation is often recommended. Once the bone is prepared, and the implants are placed, your periodontist will check the stability of the implants in the bone. If the implants are very stable, provisional hybrid dentures may be attached so you can walk out with "Teeth in a Day!"

With hybrid dentures, many patients enjoy the feeling of security, stability, and increased confidence. For more information, and to schedule your consultation, call Martin Periodontics at (513) 445-4282 today.