Am I a Candidate for Dental Implants?

Mason & North Cincinnati, OH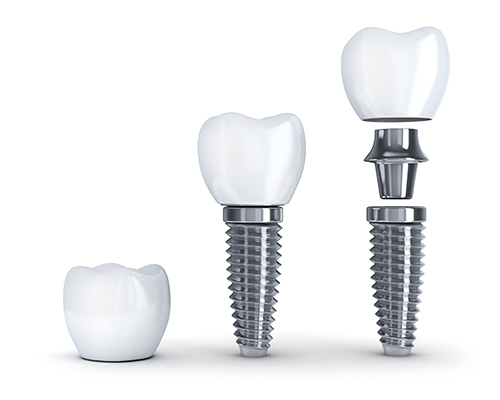 Tooth loss can happen for some different reasons. You can lose teeth because of periodontal disease, facial trauma, tooth decay, and more. The teeth may fall out on their own, or you may need an extraction. Regardless of how your teeth are lost, missing teeth have a significant impact on your oral health, your appearance, and your life in general. Dental implants have quickly become the most popular solution for replacing missing teeth. This unique treatment uses small titanium posts to support your replacement teeth. The posts are surgically implanted into your jawbone, where the bone fuses to them and integrates them into the jaw. While implants have a 98% success rate, it is important to make sure that they are the right solution for you. Martin Periodontics can help to determine your candidacy.


Are You Missing at Least One Tooth?

Dental implants are a treatment performed to replace missing teeth. They are a versatile treatment that can be used to replace any number of missing teeth, from one to all. There are several different types of implants, including single tooth, multiple teeth, and full arch replacement.


How is Your Health?

Implants require a surgical procedure. To undergo surgery, you have to be in good overall health. Any oral health issues, such as periodontal disease, need to be treated before you can undergo treatment. Chronic health conditions, such as diabetes or heart disease need to be well controlled. We will thoroughly examine your mouth and go over your medical history during your initial consultation.


Do You Use Tobacco Products?

If you smoke cigarettes or use other tobacco products, you are not immediately disqualified from receiving dental implants. However, it is highly recommended that you quit. If you are unable to quit for good, you will need to abstain before your procedure and until you have fully recovered. Tobacco products can interfere with the healing process, slowing your blood flow and limiting oxygen in your blood. Slowed healing increases your risk for developing an infection. Additionally, smoking can lead to dry socket, a condition in which the clots become dislodged from the surgical sites.


What is the Condition of Your Jawbone?

Your teeth are a crucial part of maintaining jaw health. When you chew, the roots of your teeth stimulate the bone. This stimulation lets the body know that nutrients are required. Tooth loss leads to a lack of stimulation. Fewer nutrients are sent to your jaw. Over time, the bone begins to resorb and weaken. If you lose too much bone mass, your jaw may not be strong enough to support dental implants. However, implants may still be possible with a bone graft. If you are missing an entire arch of teeth, you may also be a candidate for the All-on-4® Treatment Concept.


You Are Never Too Old for Dental Implants

Often, older patients who have suffered tooth loss think that they are too old for dental implants. This could not be further from the truth. So long as you are in good health and you meet other requirements, you are never too old to enjoy the benefits of dental implants.

With dental implants, we can help to restore the functions of your missing teeth as well as your oral health. Implants can also greatly improve your overall quality of life. Call Martin Periodontics today at (513) 445-4282 to schedule your consultation and find out if dental implants are right for you.