Bad Breath

Mason & North Cincinnati, OH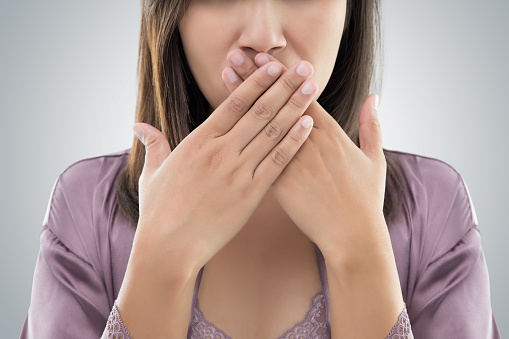 Your smile plays a huge role in how people perceive you. It is often one of the very first things that others notice about you. However, even if the appearance of your teeth is perfect, the impressions you make can be ruined by bad breath. Also referred to as halitosis, persistent bad breath can have a serious impact on your social life, your work life, and your romantic life. Martin Periodontics can help you to discover the reasons behind your bad breath and get you the treatment you need to eliminate it.


Do You Have Bad Breath?

Bad breath, also called halitosis, is a condition in which your breath smells off-putting. Persistent bad breath cannot be eliminated with brushing, flossing, mouthwash, gum, or mints. It is different from breath that smells off in the morning or after eating certain types of foods. Persistent bad breath lingers and can often indicate a much larger, underlying issue.


What Causes Bad Breath?

There are several issues that can lead to bad breath. These issues include:

| | |
| --- | --- |
| • | Periodontal disease. Periodontal disease is caused by plaque and bacteria that build up on your teeth. These substances irritate your gums, causing swelling. Bacteria and other debris can collect below the gumline and cannot be removed no matter how much you brush and floss. |
| • | Certain types of medical issues. Medical issues like certain cancers, some metabolic disorders, nasal infections, diabetes, kidney issues, and liver issues can result in bad breath. |
| • | Cigarettes and other tobacco products. These products have a strong smell on their own, and this scent can linger in your mouth. Tobacco products can also increase your risk for periodontal disease. |
| • | Dry mouth or xerostomia. This is a condition in which your mouth does not have enough saliva in it to effectively remove oral bacteria and other debris. Your mouth may feel tacky. Without enough saliva, the mouth becomes the perfect environment for bacterial growth. Dry mouth can be caused by several issues, including certain types of medications, some medical conditions, alcohol consumption, and tobacco products. |
How is Bad Breath Treated?

There are a few different types of treatments available for bad breath. The exact treatment you receive depends significantly upon what has caused the issue in the first place. Common treatments for bad breath include:

| | |
| --- | --- |
| • | Undergoing periodontal disease treatment. The exact treatment depends on the severity of the condition but can include such treatments as scaling and root planing, laser treatment, or pocket reduction surgery. |
| • | Taking care of your tongue. While brushing and flossing are important for cleaning your teeth, many people often forget their tongue. The tongue can easily collect bacteria and other debris. A tongue cleaner can be an effective tool to add alongside your toothbrush and floss. |
| • | Proper denture care. If you wear dentures, it is essential that you clean them properly. Without proper care, plaque and bacteria can collect under the base and on the acrylic resin teeth, contributing to bad breath. |
| • | Drink plenty of water each day. |
| • | Look over the side effects of any medications that you are taking. |
| • | Get treatment for medical issues that may be contributing to bad breath. |

Getting treatment for bad breath can help to greatly improve your confidence, your social life, and your romantic life. For more information, and to schedule your consultation, call Martin Periodontics today at (513) 445-4282.