Bite Adjustment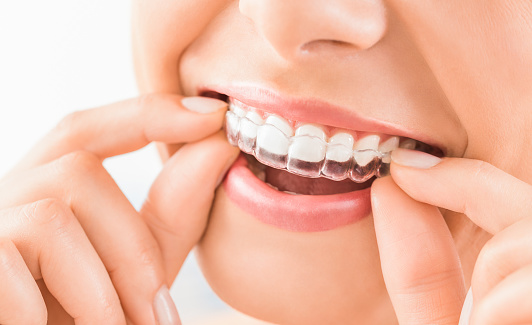 Occlusion refers to how your upper and lower jaws, and your teeth, fit together when you bite down. When your teeth fit together properly, you most likely do not spend much time thinking about them. However, when your teeth do not fit together correctly, a condition known as a malocclusion or a bad bite, it can lead to serious issues, including pain and difficulty using your mouth. At Martin Periodontics, we can help to correct your occlusion with a bite adjustment.


What is a Bad Bite?

Your teeth are meant to line up perfectly when you bite down, resulting in even pressure being applied to your teeth and your jaws. The teeth are made to fit together in a specific manner. A bad bite, or malocclusion, is a condition in which your top and bottom teeth do not align properly when you bite down. When this happens, it can have a severe impact on your oral health, your smile, and your quality of life.


Causes of a Bad Bite

There are several issues that can lead to a bad bite. These issues include such things as:

| | |
| --- | --- |
| • | Bruxism, a condition in which you grind and clench your teeth. |
| • | A chipped tooth. |
| • | You are missing one or more teeth. |
| • | Past dental work, including fillings, crowns, bridges, and more. |
| • | Your teeth are overcrowded. |
| • | Your teeth are loose. One of the biggest causes of loose teeth is periodontal, or gum, disease. Bacteria that have gotten under your swollen gums attack your periodontal ligaments and your jawbone, which compromises the stability of your teeth. |
What Happens if I Have a Bad Bite?

When you have a bad bite, several complications can arise.

| | |
| --- | --- |
| • | Jaw and temporomandibular joint pain. Over time, the uneven pressure applied to your teeth and jaws can result in severe jaw and TMJ pain. This pain can be so severe that it can cause difficulty eating and speaking. |
| • | Chronic headaches and earaches. The pain from your jaw and your TMJ can radiate up into your head and to your eardrums, which can lead to severe headaches and pain in your ears. |
| • | Your teeth can wear unevenly. |
| • | Uneven pressure can result in tooth damage, including chips and fractures. |
| • | Dental restorations may fail as a result of excessive pressures. |
| • | Gum recession. |
| • | Bone loss in your jaw. |
Adjusting Your Bite

A bite adjustment is a very effective treatment. The goal of this treatment is to restore a healthy, natural bite, evenly distributing the pressure of your bite over your teeth. The exact course of action taken to adjust your bite will depend upon your specific situation. Your bite adjustment may include:

| | |
| --- | --- |
| • | Reshaping the biting surfaces of your teeth. This includes drilling or filling the uneven areas of your teeth so that the teeth come together naturally when you bite down. This also helps to eliminate areas of excessive pressure. |
| • | Repairing broken teeth or filling cavities. In some cases, old fillings may need to be replaced. |
| • | Extracting severely damaged teeth and replacing them. |
| • | Splints. A splint is created from an impression of your mouth. It is designed to help keep your teeth in alignment and to prevent grinding and clenching. |
| • | Orthodontic treatment. Braces or clear aligners can help to realign poorly aligned teeth, effectively correcting your bite. |

If you are experiencing symptoms of a bad bite, it is important that you receive treatment right away. For more information on a bite adjustment, and to find out if this treatment is right for you, call Martin Periodontics at (513) 445-4282 today to schedule your consultation today.