Botox for TMJ

Mason & North Cincinnati, OH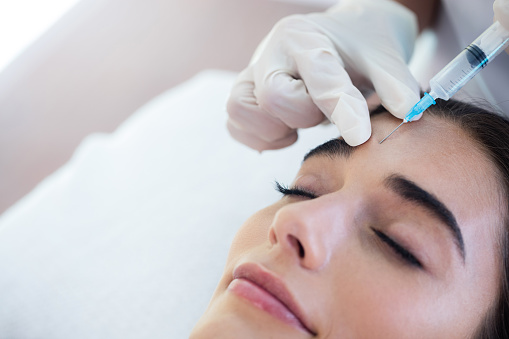 Your mouth performs many important functions. There are several components that contribute to the movement of your mouth. One of the most important, and often overlooked, is the temporomandibular joint (TMJ). The TMJ connects your lower jaw to your skull and allows for all movement – eating, speaking, yawning, and more. Any problems with the joint make any movement difficult (if not impossible) and painful. At Martin Periodontics, we can treat your TMJ, greatly alleviating the pain associated with the condition. One way in which we can do this is with Botox.


TMJ Disorder

TMJ disorder covers a variety of different issues affecting your temporomandibular joint. Irritation and inflammation can be caused by several factors – trauma, bruxism, misaligned teeth or jaw. Symptoms of TMJ disorder vary and can make an accurate diagnosis difficult. Many of the symptoms present themselves as other issues, causing many patients to seek medical treatment, and a sinus condition is diagnosed. Symptoms include:

| | |
| --- | --- |
| • | Difficulty opening your mouth. |
| • | Pain while chewing. |
| • | Facial pain and jaw pain. |
| • | Your jaw may lock open or shut. |
| • | Swelling in the jaw. |
| • | Severe headaches. |
| • | Earaches. |
What is Botox?

Botox, or botulinum toxin, was originally approved in 1989 to treat muscle spasms. In 2002, it was approved for use to treat fine lines and wrinkles, and this cosmetic use is what it is best known for. Now, however, it is becoming an increasingly popular treatment for TMJ disorder. It is an injectable treatment, designed to relax the muscles of your mouth, providing fast, long-lasting pain relief.


How Botox Treats Your TMJ

Many of the issues associated with your TMJ have to do with the overuse of the joint or stress-related (involuntary) movements. The constant pressure put on the jaw lead to irritation and inflammation. Botox works to relax the jaw muscles, putting an end to unconscious jaw tension and headaches related to excessive grinding.

Before you receive the injections, we first need to have a consultation with you. Your medical history can play a role in your candidacy. Botox is not recommended for women who are pregnant or breastfeeding.

Botox treatments are quick, taking only 10 to 20 minutes, depending upon the amount being injected. The treatment is non-invasive, and the only pain you may feel is a pinch from the needle. Once the treatment is done, you can resume your normal activities, although you should avoid strenuous activities for 24 hours. You should start to notice the full effects of relief in just a couple of days and should last about three months. Repeat treatments may be required.


Benefits of Botox for TMJ

There are several benefits to using Botox for TMJ:

| | |
| --- | --- |
| • | The treatment is non-invasive, with no surgery required. |
| • | Reduced jaw tension. |
| • | Less pain in the jaw when eating or speaking. |
| • | Reduced instances of your jaw locking. |
| • | Less pain in the shoulder and neck region. |
| • | Alleviation of headaches due to grinding. |
| • | No downtime. You can resume normal activities the same day. |
| • | Injections do not interfere with the normal functions of your mouth. |
| • | Prevention of serious dental complications in the future. |

If you are experiencing pain in your jaw that is interfering with the normal functions of your mouth, you may be experiencing TMJ disorder. Contact Martin Periodontics at (513) 445-4282 to schedule your appointment and find out if Botox for TMJ is right for you.