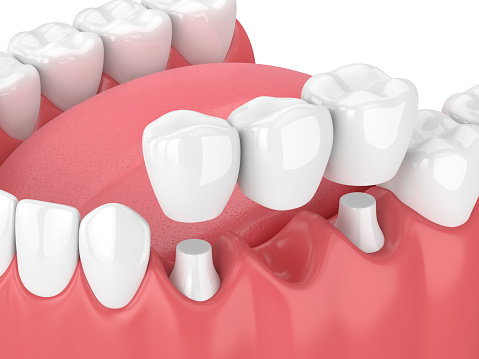 Tooth loss is a serious issue that can have a significant impact on your oral health and your quality of life. Even losing a single tooth can have detrimental effects. You can lose teeth for some different reasons, including
gum disease
, facial trauma, tooth decay, and bruxism. If you have suffered the loss of even one tooth, it is important to have it replaced. Martin Periodontics can help with a
dental bridge
.
Effects of Losing a Tooth
Tooth loss has several significant impacts on your life.
| | |
| --- | --- |
| • | If you lose a tooth toward the front of your mouth, it can impact your smile and your confidence. |
| • | Your ability to bite and chew properly is affected. This can impact your digestion and your nutrition. |
| • | You may develop a lisp, or have other trouble speaking properly. |
| • | Uneven pressure on the adjacent teeth can increase your risk for tooth damage. |
| • | Food can get stuck in the empty space, increasing your risk of decay and gum disease. |
| • | The adjacent teeth can begin to shift out of alignment, altering your bite |
Replacing a Tooth with a Bridge
A bridge is a dental restoration that can be used to replace one to three consecutive missing teeth. There are a few different types of bridges, with a fixed bridge being the most common. Commonly made from a single piece of ceramic, this bridge consists of the replacement tooth, or Pontic tooth, with a
crown
on each side. The Pontic tooth fills the empty space left behind by the missing tooth, while the crowns anchor the bridge into place by using the adjacent teeth, or abutment teeth, for support.
How is a Bridge Placed?
Placing a fixed bridge is similar to placing a dental crown.
First, we prepare the abutment teeth. This process, done under a local anesthetic, involves removing a small portion of the enamel from each tooth, reducing them in size. This is done to ensure that your bridge fits naturally in with the rest of your smile. After the teeth have been prepared, impressions of your mouth are taken. These impressions are used by our dental lab to custom create your bridge. Once it is finished, we check it for fit and bite and secure it into place on the abutment teeth with dental cement.
Benefits of a Bridge
Dental bridges provide some benefits.
| | |
| --- | --- |
| • | You are able to bite and chew normally once again. With these abilities restored, your digestion and nutrition improve. |
| • | Your speech is restored. |
| • | You regain the cosmetic appearance of your smile. This can aid in significantly improving your confidence. |
| • | A bridge helps to hold your healthy teeth in proper alignment, preventing them from shifting out of place. |
| • | Your oral health is improved. |
| • | A bridge helps to even out the pressure on the rest of your teeth, lowering your risk for tooth damage. |
| • | With a bridge, your facial features are filled out, which helps to improve your overall appearance. |
Even if you are missing a single tooth and it cannot be seen when you smile, it is still important that you have that tooth replaced. Call Martin Periodontics today at (513) 445-4282 to schedule your consultation.