Causes of Gum Disease

Mason, OH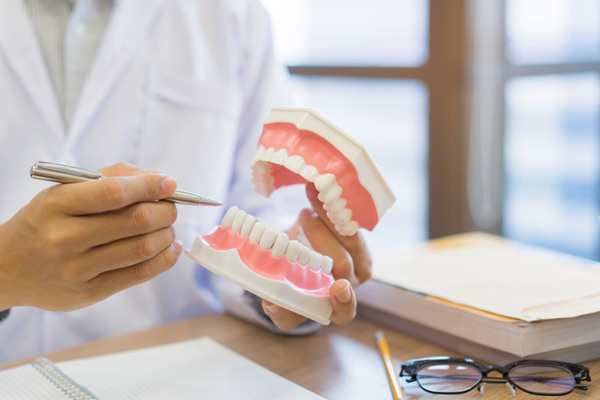 Taking care of your teeth is an essential habit. By brushing at least twice a day, flossing daily, and attending twice-yearly dental appointments for cleanings and exams, you are taking steps in keeping your teeth and gums healthy. Gum disease is a serious oral health problem with serious consequences. Ignoring the issue only allows for it to worsen. At Martin Periodontics, we can treat your gum disease, restoring the health to your mouth. We can also help you understand the causes, so you can take the right steps to prevent gum disease from occurring.


How Does Gum Disease Occur?

Gum disease is caused by a buildup of plaque and bacteria. Plaque collects on your teeth throughout the day, and can easily be removed by brushing. Bacteria live in your mouth naturally and reproduce quickly. Brushing and flossing help to keep them to a minimum. Plaque is sticky, and oral bacteria collect on it. Eventually, it can harden into tartar, which has a rough texture and easily collects more plaque and bacteria. Tartar cannot be removed with brushing.

Both plaque and bacteria irritate your sensitive gum tissues. In response, your immune system goes to work, setting off an inflammatory response, causing your gums to swell. When they do, bacteria fall below the gum line and begin attacking your periodontal ligaments and jawbone. Bacteria thrive in this region and continue to multiply. More inflammation results. Eventually, your teeth become loose and fall out. You even risk bacteria traveling into your bloodstream, leading to serious health problems.


Risk Factors that Increase Your Chances of Developing Gum Disease

While plaque and bacteria are the main culprits behind gum disease, there are several risk factors that can greatly increase your chances of developing the disease:

| | |
| --- | --- |
| • | Poor oral hygiene. Poor practices, or ignoring your oral hygiene altogether, is the biggest cause of gum disease. Brushing and flossing daily is essential for removing the plaque and bacteria that accumulate throughout each day. Regular dental visits ensure an extra thorough cleaning, along with an exam to detect issues before they get out of control. |
| • | Smoking. Smoking, along with other tobacco products, restricts the amount of oxygen in your blood, as well as your blood flow. This deprives your gums of essential nutrients. |
| • | Drinking. Alcohol has a drying effect on your mouth. Dry mouth creates an ideal environment for bacteria to grow. |
| • | Certain medications. Some medications also have a drying effect. |
| • | Hormonal changes. A change in your hormones can make your gum tissue more vulnerable. |
| • | Nutritional deficiencies. Your body needs certain vitamins and minerals to keep them healthy. Vitamins C and B12 are especially important to gum health. |
| • | Issues with tooth alignment. When your teeth are crooked, they are more difficult to keep clean, even if you brush and floss regularly. Plaque and bacteria can hide easier, and grow unchecked. |
| • | A family history of gum disease makes you more likely to experience the issue. |


At Martin Periodontics, we can help you to take the necessary measures to prevent gum disease, whether it's improving your oral healthcare routine, giving up certain vices or fixing issues with your dentition. For more information on the causes of gum disease, and to schedule your appointment, call Martin Periodontics today at (513) 445-4282 !