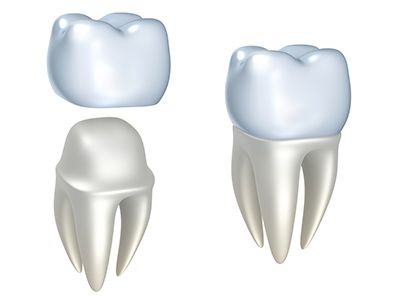 The teeth might not look like much, but they are the strongest substance in your body. Despite being incredibly strong, they can still suffer physical damage or decay. These issues can significantly impact the integrity of your teeth, as well as your oral health. When your teeth are damaged, Martin Periodontics can provide treatment with
dental crowns
.
What is a Dental Crown?
When a tooth is damaged, it is important to have it treated right away. While most minor damage only causes
cosmetic
issues, more significant damage can impact your oral health as well. Issues such as chips or cracks that extend past the enamel of your teeth and into the inner layers can lead to infections inside the teeth. Additionally, the affected tooth is at risk for developing further damage. A crown is a dental restoration that is made to cover the entire visible surface of a damaged tooth, effectively holding the tooth together and protecting it from bacterial invasion.
Types of Dental Crowns
Crowns can be made from one of several different materials. Each material offers its unique benefits as well as its drawbacks.
Metal
Metal crowns are the strongest material available and are practically indestructible. Many metal crowns can last 50 years or more with proper care. The biggest drawback to metal crowns is that they are gold or silver in color.
Porcelain Fused To Metal
Also called PFM for short, these crowns consist of a metal base with a porcelain coating. The metal provides strength around the tooth while the porcelain provides a more aesthetically pleasing appearance. However, a thin metal line can often be seen through the porcelain.
Ceramic
Ceramic crowns are made entirely of ceramic. While not as strong as metal, ceramic can withstand most normal daily use. These crowns provide the best aesthetic results and look exactly like your real teeth, and even reflect light just like natural tooth enamel.
How is a Dental Crown Placed?
Dental crowns generally take two appointments to place.
At the first appointment, your tooth is prepared. Preparing a tooth involves removing a portion of the enamel so that the crown can fit in perfectly with the rest of your teeth. Once the tooth is prepared, we take an impression of your mouth. The impression is sent to our dental lab, where your crown is custom created just for you based on the exact specifications of your mouth. When the crown is completed, we check it for fit, appearance, and bite, and secure it into place with special dental cement.
Why Get a Dental Crown?
Dental crowns provide some significant benefits, including:
| | |
| --- | --- |
| • | Preventing further damage. A crown can hold a damaged tooth together, preventing it from further breakage. |
| • | Protecting the tooth from bacterial invasion, which helps to prevent infections. |
| • | Providing the tooth with strength, allowing it to function normally again. |
| • | Allowing the tooth to stay in its socket, preventing the need for a tooth extraction. |
| • | Anchoring a fixed bridge in place. |
| • | Replacing missing teeth with dental implants. |
| • | Covering a tooth following a root canal, protecting a tooth from a second infection. |
If your teeth have suffered damage, a crown can restore their integrity and protect the health of your mouth. Call Martin Periodontics today at (513) 445-4282 for more information.