Dental Implant Process

Mason, OH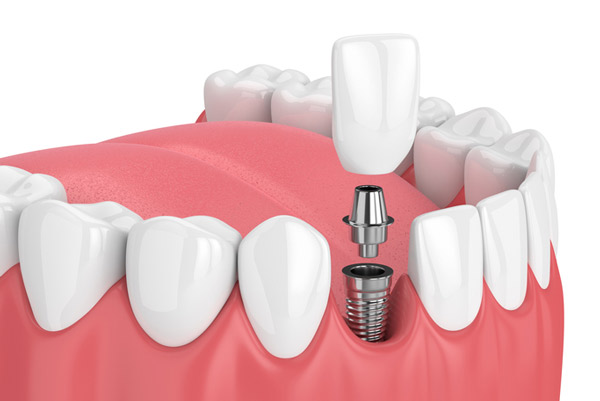 Martin Periodontics knows how important your teeth are to you, and taking care of missing teeth is an absolute necessity. While there are a wide variety of options to make the space less noticeable or for the improvement of your oral health, many people find themselves leaning toward dental implants for several reasons. There are several benefits to implants, and the procedure is relatively easy to understand. Here at Martin Periodontics, you are in skilled and capable hands. Give us a call today and see what we can do for you.


What is a Dental Implant?

A dental implant is a great option for replacing missing or extracted teeth. This method involves the installation of a small titanium post into the bone of your jaw. This post acts as the root of your tooth, providing stability and health benefits to your mouth and jaw. Because this post does not sit on the top of your gums, it does not act as a catalyst for bone loss in the way that a removable denture might. In fact, it does just the opposite, stimulating the bone to continue to grow and replenish itself the same way that a natural tooth would.

This option also keeps other teeth from falling into the gap left behind by the missing tooth. Finally, an implant is special in that it is one procedure that can be used for several outcomes. This means that implants can support single false teeth (crowns), fixed bridges, or even (if you get 4-6 implants) a full set of dentures!


How Do I Get an Implant?

The process for installing an implant is relatively simple. Once one of our experts deem you a prime implant candidate, you are ready to start your procedure. Getting implants takes time, but it is very much worth it. To start, our dentists will find whether or not you need bone grafts. This may be the case if you have deteriorating jaw bones, thinning bones, or just a low overall bone density. This procedure takes some time to heal and may delay when you can get an implant.

Once you are ready to have your implant installed, you will be administered an anesthetic. Then, our dentist will make a small incision in the top of your gums, giving him access to the bone beneath. He will then install the implant into the bone before sealing it up. Before he seals it, he will put a material over the implant that will help promote bone growth and healing of the wound. Then, over time, your implant will heal and fuse with the bone. Then you are ready to have your crown, bridge, or denture installed!

Martin Periodontics put your comfortability first with any procedure we do. If you have any questions or concerns about getting an implant installed, give us a call today, and we can ease any apprehension. Our dentists are skilled with years of schooling and experience backing us up. Let us take care of you today!