Dental Implant Surgery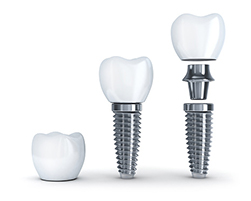 Pre-Operative Workup

With every patient, we must assess if there is enough bone available in their jaw to support the implant. This is done through a cone-beam CT or 3D scan taken at our office. With this scan, we can examine the dimensions and even the density of your bone.

By working with your general dentist and our dental lab colleagues, we can also use specialized software to simulate your future crown, and then decide on the appropriate implant size and surgical position/angulation. When our plan is finalized, we can execute our digital work-up exactly as it was planned and give you the best result possible in a safe and predictable way.


Implant Surgery

At the time of your implant procedure, a series of instruments are used to prepare a space in your bone for implant insertion. Once the implant has been placed, time will be needed for your bone to grow around the implant and secure it stably in place. This osseointegration time usually takes a period of approximately 3 months, but this can vary by patient or by the type of surgical treatment you receive.

Same day temporary crowns are possible in specific situations, generally, it is advisable to allow for the implant to heal and osseointegrate in the bone for approximately 6-12 weeks, 3 months prior to placing a crown and allowing for functional chewing force on it. In cases where there is uncertainty about the strength of the bone, more time may be required to ensure longevity. In every case, clinical experience along with the prevailing research guides our decision to finalize the implant restoration. We always plan for long-term success, and we do not rush if we believe it may jeopardize the success or outcome of your procedure.


How do I Maintain the Health of my Implant?

Just like natural teeth, implants can be susceptible to the bacteria in dental plaque and develop bone breakdown and disease. Luckily, you can take care of your implants at home in the same way you take care of your natural teeth – by proper brushing and flossing twice per day.

Implant treatment has a very high success rate, but on the off-chance you do develop a problem it is important to catch it early. That is why it is important to keep up with your regular dental cleanings and return to your periodontist every year for an implant maintenance appointment.

At these appointments, your periodontist will carefully check the health of the tissue and bone around your implant and work with you to ensure long-term success.