Distal Wedge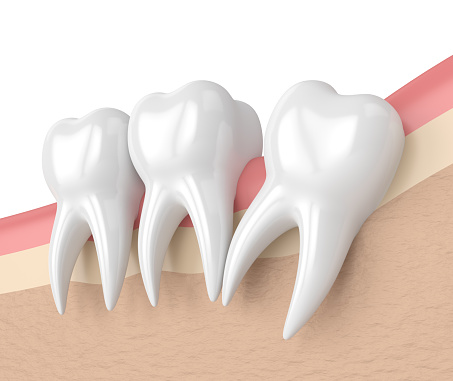 The wisdom teeth are the most common teeth to become impacted. The best way to deal with impacted wisdom teeth is to remove them with tooth extraction. Following the removal of impacted wisdom teeth, your body heals itself, generating new tissue to cover the holes left behind by the missing teeth. In most cases, the tissue heals itself without any issue, and your oral health is restored. There are some instances, however, in which the tissue can grow too much. In these cases, Martin Periodontics can help with a distal wedge procedure.


What Happens When Tissue Grows Too Much?

For most people who have undergone wisdom tooth removal, the tissue grows back over the empty sockets, and the health of your mouth is perfectly restored. For some, however, the tissue grows too much. When this happens, the tissue can begin to cover a portion of the teeth now acting as the last teeth in your arch. These teeth are already difficult to keep clean on their own. With tissue now covering portions of these teeth, they are even harder to keep thoroughly clean. The tissue can easily trap plaque and bacteria, increasing the likelihood of localized infections. Tissue can also conceal a cavity. This cavity may go unnoticed until it becomes much larger. By the time it is noticed, the damage is much more severe, and can lead to painful infections and tooth loss.


What is a Distal Wedge Procedure?

A distal wedge procedure is a surgical procedure that is performed to remove the additional tissue that is covering over a portion of the back teeth. This surgery is done under a local anesthetic, which numbs the area and ensures that you do not feel any pain. We then remove a small wedge of tissue and suture the surgical wounds with stitches. The procedure can typically be done in less than 15 minutes. Before you know it, you are finished and on your way home.


Recovering After a Distal Wedge Procedure

Because the distal wedge procedure involves surgery, there is some recovery involved afterward. You may feel some discomfort once the anesthetic wears off, but this can often be managed with an over the counter pain reliever. It is important that you continue to take good care of your teeth by brushing and flossing. Take care near the surgical wounds until you have fully healed. Proper oral hygiene is essential for minimizing oral bacteria, which can help to prevent infections in the surgical wounds. If dissolvable stitches have been placed, they will disappear on their own. Otherwise, the stitches will be removed once the tissue has healed sufficiently. If you have any concerns during your recovery period, call our office right away.


Benefits of a Distal Wedge Procedure

There are several benefits that come with a distal wedge procedure. These benefits include:

| | |
| --- | --- |
| • | The procedure is quick and easy. |
| • | Your back teeth are easier to keep clean. |
| • | Your oral health is improved. The risk for infections and unnoticed cavities decreases. |

If your gum tissue has grown too much, covering over a portion of the last teeth in your arch, you may benefit from a distal wedge procedure. For more information, and to schedule your consultation, call Martin Periodontics at (513) 445-4282 today.