Frenectomy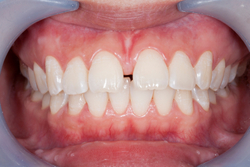 The human body has several frena. A frenulum is a fold of tissue that anchors an organ in place, preventing too much movement. There are two major frena found in the mouth. One anchors the tongue to the floor of the mouth while the other anchors the upper lip to the gums. Some babies are born with tongue or lip ties, a condition in which the frena is too tight, significantly restriction movement. These restrictions can interfere with feeding as well as cause complications as the child grows older. At Martin Periodontics, we can alleviate these restrictions, allowing for proper movement, with a frenectomy.


What Is a Tongue or Lip Tie?
•
A tongue tie is a condition in which the frenulum attaching the tongue to the floor of the mouth is too tight. The frenulum might be too short, or it may be attached too close to the tip of the tongue. While a tongue tie can range in severity, it has a significant impact on the ability of a child to breastfeed or bottle feed effectively. For breastfed babies, a tongue tie can also cause excruciating pain for the mother.
In addition to feeding complications, a tongue tie can cause issues as your child continues to grow. It can interfere with speech development, cause difficulty swallowing, or even impact the growth and development of the mouth. Your child may even miss out on some of the simplest childhood pleasures, like being able to lick an ice cream cone or a popsicle.

•
A lip tie can also interfere with proper feeding, no matter if the child is breastfed or bottle-fed. A lip tie can lead to a space between the two front teeth, called a diastema. A diastema not only impacts the quality of one's smile, but it can also increase the risk of developing cavities and gum disease as well as suffering repeated frenulum trauma. Midline lip ties and even other minor frena in the mouth can sometimes attach too high and tug/pull up on one's gumline. This tugging can lead to gum recession, sensitivity, and discomfort.
Treating Ties with a Frenectomy

A frenectomy is a treatment for correcting tongue and lip ties. With a frenectomy, we can help to restore proper movement of the tongue or lip, alleviating functional issues and prevent later complications. A frenectomy can be performed with a dental laser. The laser uses a concentrated beam of light to release the frenulum. It also cauterizes the tissue as it cuts, reducing bleeding as well as post-procedural pain and swelling. With a laser, the risk of infection is greatly reduced, and the downtime is generally shorter.

If you or your child has a tongue or lip tie, a frenectomy can help. Call Martin Periodontics today at (513) 445-4282 to learn more and schedule your consultation.