Gingival Contouring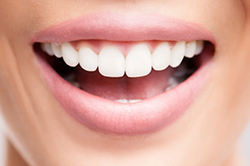 When most people think about the perfect smile, the first thing that comes to mind is how their teeth look. Are they straight, bright white, and free from blemishes? While the teeth do play an important role in the appearance of your smile, they are not the only factor. Even with perfect teeth, your smile may not be what you had hoped. This is because your gums play a role in your smile as well. If you have gum tissue that is too high, too low, or just uneven in general, the quality of your smile suffers, even with perfect teeth. Martin Periodontics can help to enhance the appearance of your smile with gingival contouring.


Causes of an Uneven Gumline

Whether your gums are too high, too low, or just uneven, all of these issues can have a significant impact on the quality of your smile no matter how perfect your teeth are. A low gumline that is too low can cause your teeth to appear small, giving you a gummy smile. It is often caused by genetics, but can also be caused by certain types of medications. Not only do your teeth appear short, but a low gumline can also increase your risk for periodontal disease and make certain types of dental procedures more difficult. A high gumline, which causes your teeth to appear longer, is often caused by gum recession. Recession, which can also lead to an uneven gumline, can be caused by a number of different issues, including periodontal disease, aggressive brushing, and bruxism. Recession can lead to an increased risk of tooth decay, cavities, and tooth sensitivity.


Gingival Contouring

Gingival contouring is a cosmetic procedure that is designed to enhance the aesthetics of your smile by reshaping your gumline to make it appear more natural. In addition to improving the quality of your smile, gingival contouring can also help to improve your oral health.

We often perform the contouring procedure with a dental laser. The laser uses a concentrated beam of light to remove excess tissue, reshape the gumline, or stimulate the growth of new tissue. Use of the laser also helps reduces bleeding, pain, and swelling.

Gingival contouring is performed under a local anesthetic, ensuring that you do not feel any discomfort. Results are visible immediately, and the quality of your smile continues to improve as you heal.


What are the Benefits of Gingival Contouring?

Gingival contouring provides several significant benefits, including:

| | |
| --- | --- |
| • | A beautiful gumline helps to enhance the appearance of your smile, boosting your confidence. |
| • | The results are immediate. |
| • | Your oral health is improved, reducing your risk for periodontal disease, tooth decay, and cavities. |
| • | With a natural gumline, it is easier to place certain dental restorations, including fillings, veneers, and crowns. |

If an imperfect gumline is holding you back from having the perfect smile, gingival contouring may be the solution for you. Call Martin Periodontics at (513) 445-4282 for more information and to schedule your appointment today.