Gingivitis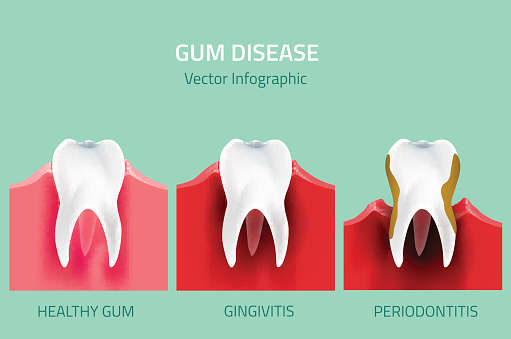 Taking care of your mouth is essential for maintaining optimal oral health. Oral hygiene involves several steps. Most of your oral hygiene takes place at home, with regular brushing and flossing every day. In addition to your home care, it is also important that you have your teeth professionally cleaned and examined every six months. Without proper oral hygiene, you may quickly find your mouth affected by gingivitis. Martin Periodontics is here to help.


What is Gingivitis?

Gingivitis is the earliest stage of gum disease. It occurs when plaque, a sticky substance that naturally occurs in the mouth, builds up on the surfaces of your teeth. This substance contains toxins that irritate the sensitive gum tissues, causing inflammation, or swelling. Approximately 75% of the population experiences gingivitis in their lifetime.


How Do I Get Gingivitis?

There are several issues that can lead to the development of gingivitis:

| | |
| --- | --- |
| • | Poor oral hygiene. Neglecting your regular brushing and flossing routine can quickly lead to the accumulation of plaque on your teeth. |
| • | Cigarettes or other tobacco products. Those who use tobacco products are significantly more likely to develop gingivitis. This habit can also lower your chances for successful treatment. |
| • | Changes in your hormones. Pregnancy, menopause, and other types of hormone fluctuations can increase gum sensitivity. |
| • | Certain types of medications. |
| • | Chronic diseases, such as diabetes, heart disease, HIV, and more can decrease your immune system and the ability of your body to fight infections. |
| • | Stress. Stress can decrease your immune system, leaving you more susceptible to infection. |
Symptoms of Gingivitis

Gingivitis often does not cause pain or discomfort, and the warning signs can be difficult to detect immediately. Knowing the early warning signs can help you to take action immediately, preventing more serious complications later:

| | |
| --- | --- |
| • | Your gums appear red and swollen. |
| • | Your gums may bleed when you brush or floss. |
| • | Bad breath. Plaque captures bacteria, which can lead to chronic bad breath. |
| • | Persistent sore gums. |
| • | Tooth sensitivity. Swollen gums pull away from your teeth, leaving the roots vulnerable. |
How is Gingivitis Treated?

If you notice any symptoms of gingivitis, it is important to seek treatment immediately. While gingivitis can often be reversed with an improved oral hygiene routine, a professional cleaning can also be exceptionally helpful. With a thorough cleaning, we can remove all of the plaque and bacteria from your teeth, including along and just below the gumline. This alleviates the irritation from your gums, allowing your gums to heal.


What Happens if Gingivitis is Not Treated?

If gingivitis is not treated, gum disease only continues to get worse. Plaque continues to collect on your teeth and can begin to harden into tartar. Your swollen gums begin to pull away from your teeth, forming pockets where bacteria can collect. There, the bacteria begin attacking the periodontal ligaments and your jawbone, weakening these supporting structures. Over time, the gums begin to recede, and the teeth become loose. Advanced stages of gum disease can even lead to tooth loss.


Can I Prevent Gingivitis?

Gingivitis can be prevented with a good oral hygiene routine. It is important that you brush your teeth at least twice a day for two full minutes each time. When you brush, it is essential that you cover all surfaces of your teeth. You should also floss your teeth at least once a day. In addition to your daily care routine at home, you should also have your teeth professionally cleaned and examined at least twice a year. Cleanings help you to prevent the formation of gum disease while exams enable us to spot early warning signs, providing you with immediate treatment to stop gum disease in its tracks.

If you have noticed any signs or symptoms of gingivitis, it is important that you seek treatment immediately. For more information, and to schedule your consultation, call Martin Periodontics at (513) 445-4282 today.