Management of Tissue Surrounding Dental Implants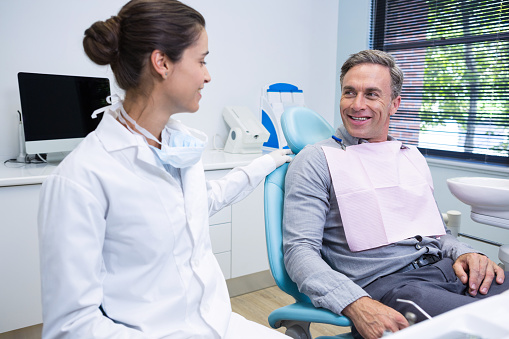 Dental implants are a popular treatment for replacing missing teeth. This unique treatment uses small titanium posts that are surgically placed into your jawbone to support the ceramic crowns that replace the visible surfaces of your missing teeth. During the recovery process, your bone gradually fuses to the posts, integrating them into the jaw so they can provide stable support and ensure that your new teeth function properly. At Martin Periodontics, we can place dental implants and help to manage the tissues around them to ensure that they provide you with long lasting results.


What Can Affect Tissues Around Dental Implants?

95% of implants placed are made from titanium alloy. This material is considered biocompatible, meaning that it is well accepted by the bone and the gum tissue. However, while your tissues generally grow around the implants, ensuring their strength and helping them to appear completely natural, there are several issues that can affect the soft tissue and bone around them. These issues include:

| | |
| --- | --- |
| • | Periodontal disease. Even though your ceramic teeth cannot decay, plaque and bacteria can still accumulate on the surfaces. These substances can irritate your gums, leading to inflammation. You may be faced with gum recession and bone loss. |
| • | Bruxism, a condition in which you grind and clench your teeth. |
| • | Infections. You may develop an infection during the healing process that can cause inflammation of your gums and your bone tissue. |
| • | Overloading. This occurs when the functional load applied to the implant exceeds the capacity of your jawbone. This can affect the growth of the bone. |
| • | Facial trauma. Trauma can damage the bone around the implant. |
| • | Insufficient bone mass. If implants are placed in bone that is too weak, the bone will not be able to fuse properly, resulting in weak implants. |


A bone graft is a surgical procedure that is performed to replace missing bone mass from your jaw. During this treatment, we take bone graft material and place it in the weakened areas of your jaw. As you heal, your existing bone fuses with, or around, the graft, restoring strength.

This type of procedure, known as a socket preservation or socket graft, may be performed immediately following the extraction of teeth. When teeth are extracted, an empty space is left behind. A socket graft allows us to fill the empty space, preserving the integrity of your jawbone and preventing your healthy teeth from shifting out of alignment. This treatment also makes it easier to place dental implants.


While your gums grow around your ceramic teeth just like your natural teeth, gum recession can still occur. When gum recession happens, the titanium posts of your implants can be made visible. You are also at an increased risk of facing implant failure. A soft tissue graft allows us to restore gum tissue around your implants. We take tissue from another area of your mouth, generally the roof, and suture it over the affected areas. The tissues fuse together to restore a healthy, natural gumline.


Maintaining a Healthy Smile with Dental Implants

Taking care of your mouth is essential for managing the tissues around your dental implants, the implants themselves, and your overall oral health. It is important that you brush and floss your teeth, including your dental implants every day, and have your teeth professionally cleaned and examined at least twice a year. During the healing stages after implant placement, we provide you with specific aftercare instructions, which include tips on how to keep your mouth clean and how to prevent infections. Following these instructions is essential for ensuring that your soft tissues and bone heal properly around the implants. If you notice anything unusual with your implants, it is essential that you call to make an appointment right away.

If you have any questions about the management of the tissues around your dental implants, and what you can do ensure that your implants last, call Martin Periodontics at (513) 445-4282 today.