LANAP Procedure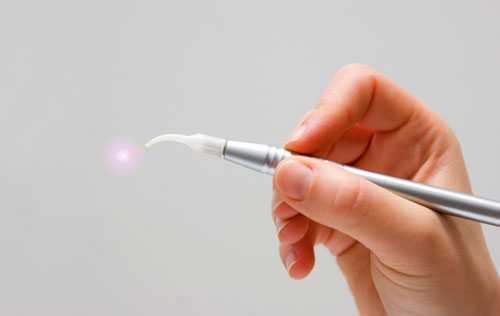 Periodontal disease occurs when plaque and bacteria are left to build up on the surfaces of your teeth. These naturally occurring substances irritate sensitive gum tissues, causing inflammation. Without treatment, periodontal disease only continues to grow worse, leading to gum recession, loose teeth, and even tooth loss. Periodontal disease can even impact your overall health as well, increasing your risk for heart disease, diabetes, and more. When periodontal disease strikes, Martin Periodontics can help with LANAP.


What is LANAP?

LANAP stands for laser-assisted new attachment procedure. It is an FDA approved procedure that involves the use of a laser to treat periodontal disease. The laser uses a concentrated beam of light to selectively remove diseased or infected gum tissue. Additionally, the laser can be used to kill bacteria hiding in periodontal pockets, effectively disinfecting them. The laser also aids in tissue regeneration, allowing your gums to heal more quickly.


The LANAP Procedure

Before we begin your LANAP procedure, we first administer a local anesthetic. While LANAP is a less invasive procedure than traditional periodontal surgery, the local anesthetic helps to ensure that you do not feel any discomfort. We also measure your periodontal pockets to determine how deep they are.

The LANAP procedure begins with using the laser to remove diseased and infected gum tissue. We are able to specifically target unhealthy tissue, leaving healthy tissue completely intact. The laser is then used to kill bacteria hiding in the periodontal pockets. At the same time, the laser helps to break up the deposits on your teeth.

Next, a scaler is used to scrape the surfaces of your teeth removing plaque and tartar. The laser is then used to help eliminate any lingering bacteria, sterilizing the pockets. The laser is also used to help seal the periodontal pockets, helping your gums to heal from the inside out.


What to Expect After Treatment

LANAP may be less invasive, but there is still a recovery process involved. During the first few days following your procedure, you may experience some discomfort. Over the counter pain relievers are generally enough to help manage pain. We will monitor you as you heal, adjusting your bite as necessary to prevent your teeth from colliding with one another. A splint may be created for you to help immobilize your teeth and it should be worn as instructed. You will be provided with specific aftercare instructions to help ensure that you heal properly. Over the next 6 to 18 months, your gums will continue to heal.


The Benefits of the LANAP Procedure

LANAP provides several significant benefits, including:

| | |
| --- | --- |
| • | The procedure is less invasive than traditional periodontal surgery. |
| • | The laser replaces the traditional scalpel. This results in less pain, bleeding, and swelling. |
| • | We are able to specifically target diseased tissue, meaning there is less loss of gum tissue. |
| • | There is less downtime following treatment. |
| • | The laser helps to stimulate the regeneration and growth of new tissues, both soft tissues and bone tissue, speeding up your healing. |
| • | Your risk for developing postsurgical complications is reduced. |

With LANAP, we can help to stop the progression of periodontal disease, allowing your mouth to begin healing. For more information on LANAP, and to find out if LANAP treatment is right for you, call Martin Periodontics at (513) 445-4282 today.