Replacing Multiple Teeth with Dental Implants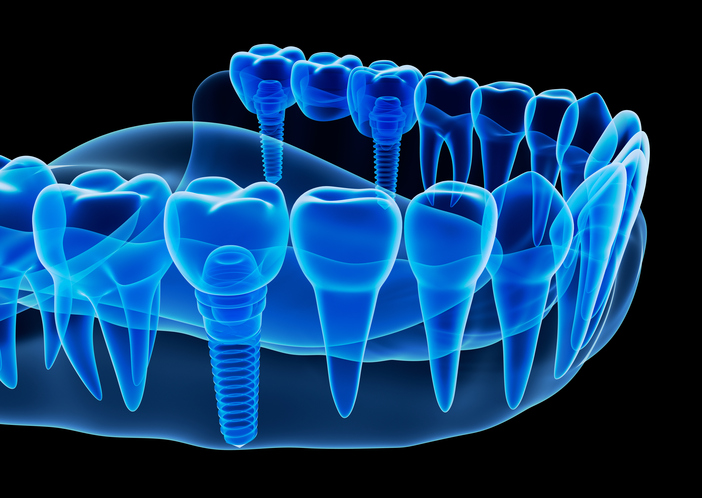 Losing teeth have severe consequences on your appearance, your oral health, and the functions of your mouth. It can happen as the result of many different factors – gum disease, facial trauma, poor nutrition, bruxism. The next thing you know, you are having trouble chewing your favorite foods and speaking. The more teeth you lose, the worse the consequences become. Replacement is essential. At Martin Periodontics, we can provide you with multiple teeth implants to restore your missing teeth.


Traditional Solutions

It used to be that when you lost several teeth in one area, you had two options. Depending upon your specific situation, a fixed bridge could be placed, requiring the preparation of adjacent healthy teeth for crowns, or a removable partial bridge could be given. Both solutions are still available today, but implants have surpassed these options in popularity.


What are Implants?

Implants are small, titanium rods that are set into your jawbone. Once your jaw has healed, fusing to the rods, they create a strong, stable support for any number of replacement teeth. The implants essentially mimic the roots of your teeth. The crowns are often made of ceramic, which is best able to imitate your natural teeth.

Implants involve a surgical procedure. Incisions are made in your gums, and holes drilled into your jawbone. The implants are placed, and your gums stitched closed around them, leaving a small amount exposed. Healing can take several weeks to several months, depending on the number of implants placed. You wear a temporary set of teeth while healing takes place. After you heal, abutments, which anchor your replacement teeth, are set onto the rods. Molds are taken of your mouth, which is used to fabricate your teeth. Once your new teeth are ready, they are set permanently in place.


Multiple Teeth Implants

Multiple teeth implants are designed to replace several missing teeth in the same location. The implants and the crowns supported by them take the place of traditional options – bridges and partial dentures. The number of teeth you are missing, along with the condition of your jawbone, will dictate the number of implants that you need to successfully support your new teeth.


Benefits of Multiple Teeth Implants

There are several benefits to multiple teeth implants:

| | |
| --- | --- |
| • | Your adjacent teeth are left completely intact (unlike with bridges, which require removal of perfectly healthy tooth structure to provide room for the crowns). |
| • | No metal wires (like with partial dentures). |
| • | Permanent. The implants are not removable, except by us if maintenance is needed. |
| • | Easy to care for. They can be brushed and flossed, just like you would do to the rest of your teeth. |
| • | Look just like your natural teeth. |
| • | Your ability to chew properly is restored, which in turn improves digestion and overall nutrition. |
| • | You can speak easily once again, and others will be able to understand you. |
| • | The titanium rods mimic the roots of your natural teeth. In doing so, they help to prevent the bone loss typically associated with tooth loss and preserve the strength of your jawbone. No other restorative option provides this advantage. |

If you are missing several teeth, multiple teeth dental implants may be the solution for you. Contact Martin Periodontics today at (513) 445-4282 to find out more.