Socket Grafting

Mason & North Cincinnati, OH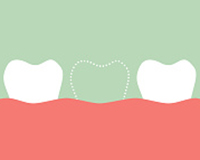 When your dentist advises extraction of a tooth, socket grafting is recommended to help preserve the size and shape of the bone in the area.


Why do I need socket grafting?

Without socket grafting at the time of extraction, the bone will collapse, and the width and height may quickly deteriorate. This can make future treatments, such as dental implants or fixed bridges, much more costly, difficult, and time-consuming to complete.

In addition, long-term effects may include shifting or drifting of the teeth adjacent to the extraction and loss of bite stability.


Socket Grafting Procedure

After a traumatic removal of a tooth, your periodontist will place bone graft and other regenerative materials (such as a membrane) to help regrow the bone in an empty to socket in preparation for dental implant or other replacement option. If the tooth you are having extracted is one that is visible when you smile or speak, preparations will be made to provide you with a temporary replacement prosthesis so you can continue to be confident in your appearance.


Next Steps

Bone growth after this procedure usually takes 3-4 months but may vary depending on certain factors. At completion of healing, your periodontist will assess the area both clinically and with a 3D radiographic image. 3D imaging with our cone beam CT allows for Dr. Martin and Dr. Prabhu to digitally pre-plan your future implant and provide you with the highest level of accuracy and care during your implant procedure.