Swollen Gums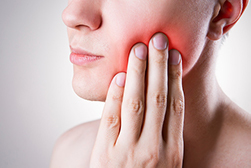 Your gums are a key element in your oral health. Healthy gum tissue sits tightly against the surfaces of your teeth, providing a protective seal against bacterial invasion. They help to provide stability for your teeth in addition to your periodontal ligaments and your jawbone. The gums also play a critical role in the appearance of your smile. When your gums become swollen, your oral health, and your smile, become compromised. If your gums are swollen, Martin Periodontics can help.


What Causes Swollen Gums?

One of the most common causes of swollen gums is periodontal disease. Periodontal disease occurs when plaque and bacteria build up on the surfaces of your teeth. Plaque and bacteria contain toxins that irritate your gums, leading to inflammation. This early stage of periodontal disease is known as gingivitis and is also often accompanied by bleeding when you brush and floss. Other causes of swollen gums include:

| | |
| --- | --- |
| • | Aggressive brushing. When you brush too hard, you can irritate soft tissues, causing inflammation. Aggressive brushing can also contribute to gum recession. |
| • | Certain types of medications. Some medications can cause gum swelling as a side effect. |
| • | Hormonal changes, such as pregnancy. |
| • | Tobacco products. |
| • | Nutritional deficiencies, particularly a vitamin C deficiency. This can come from a lack of fruits and vegetables in your diet. |
| • | Ill-fitting oral appliances, including bridges and dentures. These appliances can rub against your gums, causing irritation and inflammation. |
| • | Infections in your gum tissues. In some cases, bacteria can become sealed below the gums creating an abscess, or a pus-filled sac. In addition to swelling, an abscess can also cause pain in the gums. |
How are Swollen Gums Treated?

The type of treatment you receive for your swollen gums depends upon what is causing the issue to occur in the first place. Treatments for swollen gums include:

| | |
| --- | --- |
| • | Dental treatment. If your swollen gums are caused by periodontal disease, dental treatment is necessary. The early stages of periodontal disease can often be treated with a professional cleaning and improved oral hygiene practices at home. More advanced stages may require scaling and root planing, laser treatment, or pocket reduction surgery. If your swelling is caused by an abscess, professional treatment is necessary for determining the cause, and location, of the abscess and to find the best treatment for the infection. |
| • | Replacing ill-fitting dental appliances. |
| • | Lifestyle changes. Make sure that you eat a well-balanced, diverse diet so that you ensure that you are getting all of the essential nutrients. It is also important that you quit smoking or the use of other tobacco products. |
| • | Anti-inflammatory medications. |
| • | Eating cold foods. |
Preventing Swollen Gums

There are things that you can do to prevent swollen gums from occurring:

| | |
| --- | --- |
| • | Brush and floss your teeth daily. |
| • | Have your teeth professionally cleaned and examined regularly. |
| • | Maintain a balanced diet. Make sure that your diet includes foods that are particularly good for gum health, including dark leafy greens, dairy, as well as plenty of fruits and veggies. |
| • | Do not smoke or use other tobacco products. If you currently use these products, it is important that you quit. |
| • | Practice relaxation techniques. Stress can increase cortisol, which can contribute to inflammation. Relaxing can help to keep stress levels low. |

Swollen gums can have a significant impact on your oral health and the quality of your smile. Fortunately, they can be treated. Call Martin Periodontics today at (513) 445-4282 to schedule your consultation.