Porcelain Veneers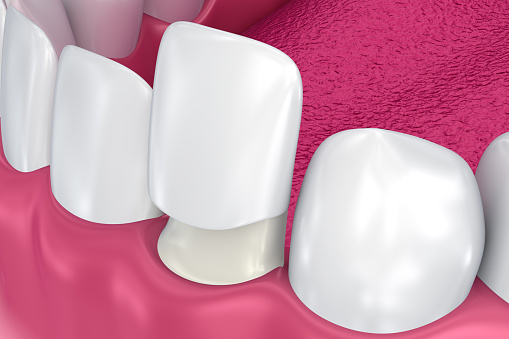 When you smile, the very first thing that people see are your teeth. When your teeth are less than perfect, even if it's just a minor imperfection, others will take note, and it can make you rather self-conscious. What's more is that even minor imperfections can lead to serious complications, such as infections. At Martin Periodontics, we can help to protect your teeth and restore your smile with the help of veneers.


What are Veneers?

Veneers are very thin shell-like structures that are designed to cover the front portions of your visible teeth. They are meant to provide a cosmetic, and functional, solution to minor dental imperfections. Veneers are typically made out of porcelain, due to the material's ability to blend in naturally with the rest of your teeth. The material can also withstand most normal biting forces. With proper care, they can last up to 20 years or more. Veneers can also be made out of composite resin, but this material is not as strong as porcelain and is easily damaged.


What Issues Can Veneers Fix?

Veneers are used to fix some different, minor, imperfections:

| | |
| --- | --- |
| • | Small cracks or chips. |
| • | Gaps between the teeth. |
| • | Teeth that are misshapen. |
| • | Uneven teeth. |
| • | Discolored teeth that have not responded to other types of whitening treatment. |
Veneer Procedure

Veneers are a restoration that takes two visits to complete. During the first visit, we prepare your tooth. This involves removing a thin layer of enamel, which allows for the veneer to fit over your natural tooth and blend in seamlessly with the rest of your smile.

After we prepare the tooth, we take a mold of your teeth. Then, using a color guide, we match the color of your natural teeth. This information is then sent to a lab, where your custom veneer is created. It can take up to two weeks for your veneer to be ready. If necessary, we can provide you with a temporary restoration in the meantime.

When the veneer is ready, you return to the office for your second visit. During this visit, we check for fit and to make sure the color matches correctly. If everything looks good, we then set the veneer in place with dental cement.


Caring for Veneers

In general, veneers can be cared for just like your natural teeth. You should continue to brush and floss regularly, as well as get regular dental exams and cleanings. Even though veneers cannot experience decay, they can still collect plaque and bacteria, which can promote gum disease.

You should exercise some caution with your veneers. Avoid biting down on hard foods, such as hard candies, popcorn kernels, and ice. You should also avoid biting your fingernails or writing utensils. Moreover, don't use your teeth to open packaging. With all of this in mind, your veneers should last you many years.

Benefits of Veneers

Veneer benefits include:

| | |
| --- | --- |
| • | A completely natural appearance. Veneers blend right in with the rest of your teeth, and no one will know that they are there. |
| • | Porcelain is stain resistant. |
| • | Only a small amount of enamel needs to be removed (when compared to other options such as crowns). |
| • | With your teeth restored, you can smile confidently once again. |

If you have minor imperfections on your teeth that are impacting your smile, veneers can help. Contact Martin Periodontics today to schedule your appointment.