What are the Different Types of Dental Implants?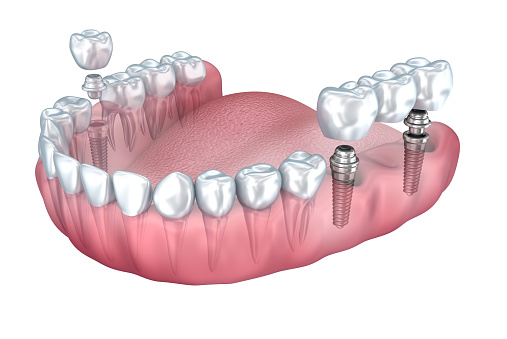 Dental implants are a modern-day treatment for replacing missing teeth. This treatment uses titanium posts that are surgically implanted into your jawbone to provide support for the ceramic crowns that replace the teeth you lost. Your bone gradually fuses to the posts, a process called osseointegration. This process stabilizes them in your jaw, enabling them to provide secure support for your new teeth. There are several different types of dental implants available, allowing this incredible treatment to be used in a number of different situations. Martin Periodontics can help to determine the best type of dental implants for your needs.


Single Tooth Implants

A single tooth implant is exactly what it sounds like. It is a single post that supports a single crown, designed to replace one tooth. You may have more than one single tooth implant in your mouth. Even if the missing tooth is out of sight when you smile, it is still important that it be replaced for chewing/functionality and to help support your bite so neighboring teeth do not move around or drift.


Multiple Tooth Implants

A multiple tooth implant prosthesis is also commonly called an implant-supported bridge. This type of implant is designed to replace two or more consecutive missing teeth and takes the place of a fixed bridge or partial denture. The exact number of implant posts needed for your multiple tooth implant prosthesis depends on several factors, including the number of teeth missing and the condition of your jawbone.


Full Arch Replacement

A full arch replacement is sometimes referred to as implant-retained or implant-supported dentures. It provides you with a modern alternative to a traditional full denture. With this type of restoration, 2 to 6 implant posts are placed to support an implant overdenture, or an entire arch of replacement teeth. The teeth can be secured to the implants to provide stability and retention.


Bar Retained Implants

A bar retained implant is a type of full arch replacement. Also called a bar attachment denture, it is used when there may not be enough bone mass in your jaw to support the 6 to 8 posts typically used for a regular full arch replacement. The type of implant typically uses 4 posts, which are placed in your jaw at specific angles to maximize contact with your existing bone mass. A titanium bar is placed that attaches all of the posts together. After you have healed, your replacement teeth clip into place on the bar.


All-on-4®

The All-on-4® Treatment Concept is another treatment designed to replace a full arch of missing teeth when your jaw is lacking sufficient mass to support the implants required for a regular full arch replacement. This treatment uses 4 posts that are placed specifically within your jaw. Two posts are inserted vertically at the front of your jaw while the other two are inserted at a 45-degree angle at the back of your jaw. The placement of these posts maximizes contact with your existing bone mass, which helps to increase success. Your replacement teeth are screwed into place on the posts.


Mini Dental Implants

Mini dental implants are another alternative to regular dental implants, often used when there is not sufficient bone mass in the jaw. They can be used to replace single teeth or several teeth. They can replace teeth in narrow spaces or teeth that are small. They can also be used to anchor dentures in place in the lower jaw.

Mini dental implants are significantly smaller than regular dental implants. Their design is also different. Rather than an abutment, the mini dental implant post has a ball on the end of it. Your replacement teeth are then secured into place with a socket and O-ring.
Whether you have lost one tooth or several teeth, there are dental implant options to meet your needs. For more information, and to learn the best types of dental implants for you, call Martin Periodontics today at (513) 445-4282 to schedule your consultation.