Wisdom Teeth Removal

Mason & North Cincinnati, OH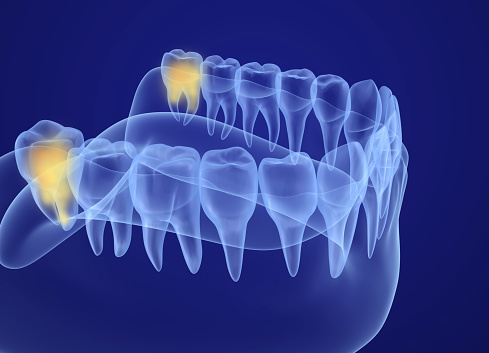 Your wisdom teeth, also known as your third molars, are the very last of your adult teeth to develop, erupting in your late teens to early 20s. Long ago, the wisdom teeth used to serve a function. Prior to the invention of cooking, the wisdom teeth were essential for breaking down a variety of coarse foods that made up the human diet. However, after cooking, the wisdom teeth were no longer needed. The jaw began to shrink, but the wisdom teeth still develop. These teeth are the most common teeth to become impacted and can cause several significant issues. If your wisdom teeth are impacted, Martin Periodontics can help with wisdom tooth removal.


How Do Wisdom Teeth Become Impacted?

Impacted teeth are those that cannot properly erupt through your gums. They may only partially erupt or they may not be able to erupt at all. The wisdom teeth are the teeth most commonly affected by this issue. Common causes for impaction include:

| | |
| --- | --- |
| • | There is not enough space in your jaw to accommodate these teeth. |
| • | There is bone or soft tissue blocking the path of the wisdom teeth. |
| • | Your wisdom teeth may be developing and growing at an angle. |
The Effects of Impacted Wisdom Teeth

When your wisdom teeth are impacted, it can lead to several issues.

| | |
| --- | --- |
| • | Overcrowding. If you do not have enough room in your jaw, the wisdom teeth can force your other teeth out of alignment as they grow in. This can lead to overcrowding, which affects your smile as well as your oral health. |
| • | Infections. Partially erupted wisdom teeth are difficult to keep clean. This can result in localized infections. |
| • | Cysts. Cysts are fluid or semi-fluid filled sacs that often form as a result of infection. They can form in the jaw as a result of impacted teeth. Without treatment, cysts grow larger and larger, and can destroy your jawbone in the process. In some cases, a bone graft may be needed to restore missing bone mass. |
| • | Tooth damage. Wisdom teeth growing at an angle can grow against the adjacent teeth, causing cracks and other damage. |
Diagnosing Impacted Wisdom Teeth

One of the most common signs that your wisdom teeth are impacted is feeling pain at the back of your jaw. This pain can interfere with your daily life, making it difficult to eat or speak. In order to diagnose impacted wisdom teeth, we need to perform an oral exam. We first look over your mouth to check for partially erupted teeth, signs of infection, and tooth damage. We then take x-rays, which will allow us to see the exact location of your wisdom teeth, damage to adjacent teeth below the gumline, and any cysts. After diagnosing impacted wisdom teeth, we can then create a custom treatment plan.


Removing Your Impacted Wisdom Teeth

When your wisdom teeth are impacted, the best way to treat them is to remove them. Removing impacted wisdom teeth often requires a surgical extraction. Done under a local anesthetic, we make incisions in your gums, exposing the teeth and surrounding bone. The teeth are then extracted. We may need to remove a small amount of bone in the process or we may need to section the teeth and remove them in pieces. Once finished, the empty spaces are cleaned and your gums are sutured closed. The wisdom teeth do not need to be replaced.


The wisdom teeth are the most common teeth to become impacted. The best way to deal with impacted wisdom teeth is to remove them with tooth extraction. Following the removal of impacted wisdom teeth, your body heals itself, generating new tissue to cover the holes left behind by the missing teeth. In most cases, the tissue heals itself without any issue, and your oral health is restored. There are some instances, however, in which the tissue can grow too much.

If you suspect that your wisdom teeth are impacted, getting help right away is essential. Call Martin Periodontics today at (513) 445-4282 to schedule your consultation.