Tooth Extractions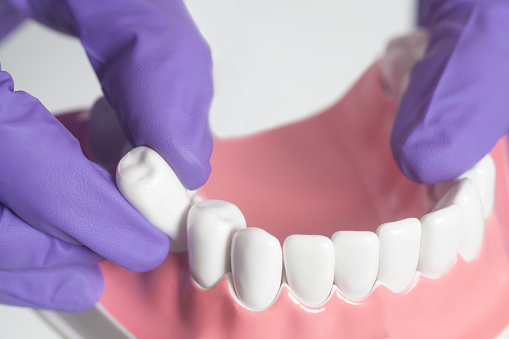 Your teeth are the strongest substance in your body. Believe it or not, they are actually stronger than your bones. Despite their strength, your teeth are not indestructible. While minor damage may only affect the aesthetics of your teeth, more significant damage, or severe bone loss due to periodontal disease, can also impact your oral health. When faced with compromised teeth, the ideal solution is to save them. In the event of severe damage or extensive bone loss, however, the affected teeth may need to be extracted. Martin Periodontics can help.


What Happens if I Do Not Treat Damaged Teeth?

Most minor damage to your teeth only causes aesthetic defects. However, in the event of more significant damage, severe consequences could result without treatment. If a tooth is decayed or has a crack or chip that affects the inner layers of your teeth, it is important that you seek treatment immediately. Without treatment, these issues could lead to further damage, compromising the structural integrity of the tooth. Additionally, bacteria can enter into the inner layers of the teeth and begin attacking the pulp, leading to a serious, painful infection. As the infection worsens, bacteria can enter into the bloodstream, where it can travel throughout the body, causing issues such as heart disease, diabetes, and more.


How Do I Know if I Need an Extraction?

Common reasons for extractions include:

| | |
| --- | --- |
| • | Cracks that start at the crown, but travel below the gumline or cracks that are completely below the gums. Typically, cracked teeth can be restored with a crown, but cracks below the gumline cannot be protected, leaving the tooth susceptible to infection. |
| • | Teeth that are split in half. |
| • | Shattered teeth. |
| • | Severely decayed teeth. If decay is too large, a filling may compromise the integrity of the tooth. Severe decay can also mean there is not much healthy tooth structure remaining, leaving the tooth unable to support a crown. |
| • | Your teeth are overcrowded. In some instances, your mouth may be overcrowded, causing alignment issues. Teeth may need to be extracted to make orthodontic treatment possible. |
| • | Severe bone loss. If you have extensive periodontal disease that has led to loosening of a tooth, or bone damage that cannot be repaired, then extraction may be indicated. |


Your wisdom teeth, also known as your third molars, are the very last of your adult teeth to develop, erupting in your late teens to early 20s. These teeth are the most common teeth to become impacted and can cause several significant issues. If your wisdom teeth are impacted, Martin Periodontics can help with wisdom tooth removal.
Learn more about the removal of wisdom teeth.


How are Teeth Extracted?

There are two ways in which teeth can be extracted, with a simple extraction or with a surgical extraction. A simple extraction is a fairly straightforward procedure that only requires a local anesthetic. Instruments are used to gently manipulate the tooth and allow for it to be loosened and lifted free.

In more complex situations, a surgical extraction may be required. A surgical extraction is a more involved procedure that is done under a local anesthetic. Sedation may also be provided as well. Removal of a small amount of bone or cutting the teeth into sections may be needed. Once the teeth have been removed, the sockets are cleaned and the gums are sutured closed.

If you are planning on replacing a removed tooth with an implant, then your periodontist may place a bone graft or other regenerative materials to help regrow bone in the empty socket - a procedure known as socket grafting. Socket grafting can ensure that you heal with a solid foundation that can contain your future implant. Click here to learn more about socket grafting.

If you require removal of a tooth, call Martin Periodontics today at (513) 445-4282 for more information and to schedule your consultation.