Scaling and Root Planing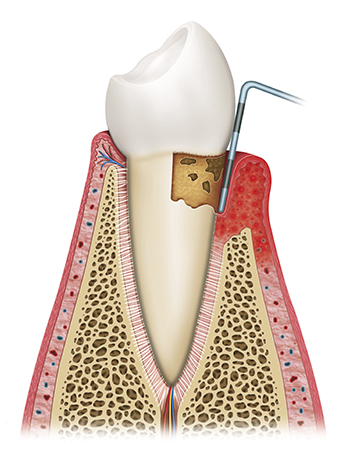 Martin Periodontics is dedicated to all of your oral needs. From examinations to oral surgery, we have got you covered! One of the most important things that we do here is monitor and control your gum health. When signs of gum disease start, it is essential that we nip it in the bud straight away. One method of doing so is scaling, and another is root planing. While there are other ways too, these are two of the more common. For more information on what scaling or root planing can do for you, give us a call today.


What is Scaling?

Scaling is a form of non-surgical gum treatment in which our dentist will gently scrape off the built-up plaque, tartar, and calculus from your teeth and gums. This is a big deal because leaving it there can lead to periodontal (or gum) disease, which can lead to halitosis, inflammation and pain, loose and shifting teeth, bone loss, and gum loss.


What is Root Planing?

Root planing is pretty similar to scaling, but it is specific to the roots of your teeth. The uneven surface of your roots allows bacteria-saturated plaque to stick and harden. Scraping off the plaque alone does not stop it from reoccurring. When the plaque and tartar are scraped, we also file down the surface of your roots, making it more difficult for bacteria to find a place to latch on.


What Do They Do?

Periodontal treatments like scaling and root planing allow for a more efficient oral health routine and decrease your risk for complications like decay or disease that extends beyond your mouth. Once periodontal disease reached its more advanced stages, it can be challenging to reverse the effects. If caught soon enough, these options along with other deep cleaning methods can almost entirely reverse any damage done. However, if left untreated, gum disease can quickly cause you lots of pain. This can come from the gums themselves, the teeth beginning to rot, teeth becoming loose and moving in the sockets or bone loss.

Bone loss can cause complications because it not only affects the teeth that you have now but can inhibit you from getting other treatments, such as dental implants, later on, should they come in handy. Gum disease can also affect other body functions and organs, causing heart disease or circulatory issues along with being linked to diabetes or strokes. It is essential that you get treated right away if you find that you have symptoms of a disease to halt other common issues in their tracks.

If your periodontal pockets are too deep, scaling and root planing will not be effective. We will need to perform a gingivectomy and possibly a gingival contouring.

Martin Periodontics has years of experience in treating all varieties and stages of gum disease. If you or a family member is feeling lost or confused when it comes to finding the right treatment, give us a call today. We can help you every step of the way, allowing you to feel confident in your smile once again. If scaling and root planing are good options for you, we will be more than happy to help!